Firstly, I know you will only coping Oblivion stuff and mix it with Skyrim/Skywinds ones, but ideas are free and why not show them anyway, even if I know you'll surely will not use them: suggestion are free. And, who know, maybe a modder will by inspired by that...
I have some disdain with oblivion chosen esthetic, because I think it TES is a rich univers, with a massive, complex and beautiful lore, and if Morrowind and Skyrim have a particular and unique esthetic, the TES esthetic...  Oblivion one look like a random bad-D&D-campaign one.
In all TES sources, cyrodilic culture is descrived as Romanesque/Mediterranean, except in one... The game who takes place in Cyrodiil. In that this game is a treachery to itself. Maybe some elements will fit for Arthurian High-Rock, but certainly not for a Mediterranean Cyrodiil. So, I've take the decision to draw some concepts to show "to what oblivion should have been looking like if it as been an elder scroll game" and I have chosen to begin by the legion's horseman armor, because in addition to discord to all other TES games imperial military style, this armor don't even fit with his function, and for that is an aberration:
Cyrodiil is mostly a wilderness, and if it is no more a jungle, like during its antics times, populations mostly live in regions directly near to the big cities, and to travel between them must use longs roads traversing wildly no man's lands. The uncivilized hills, plains, and forests they cross are populated by bests(cave lions by example), monsters(goblins tribes by example) and all races bandits. So, for travelers security(they are lots of travelers in those roads all linked to the imperial cities) Cyrodiils legions are specialized in horse patrols. But with vanilla's armors: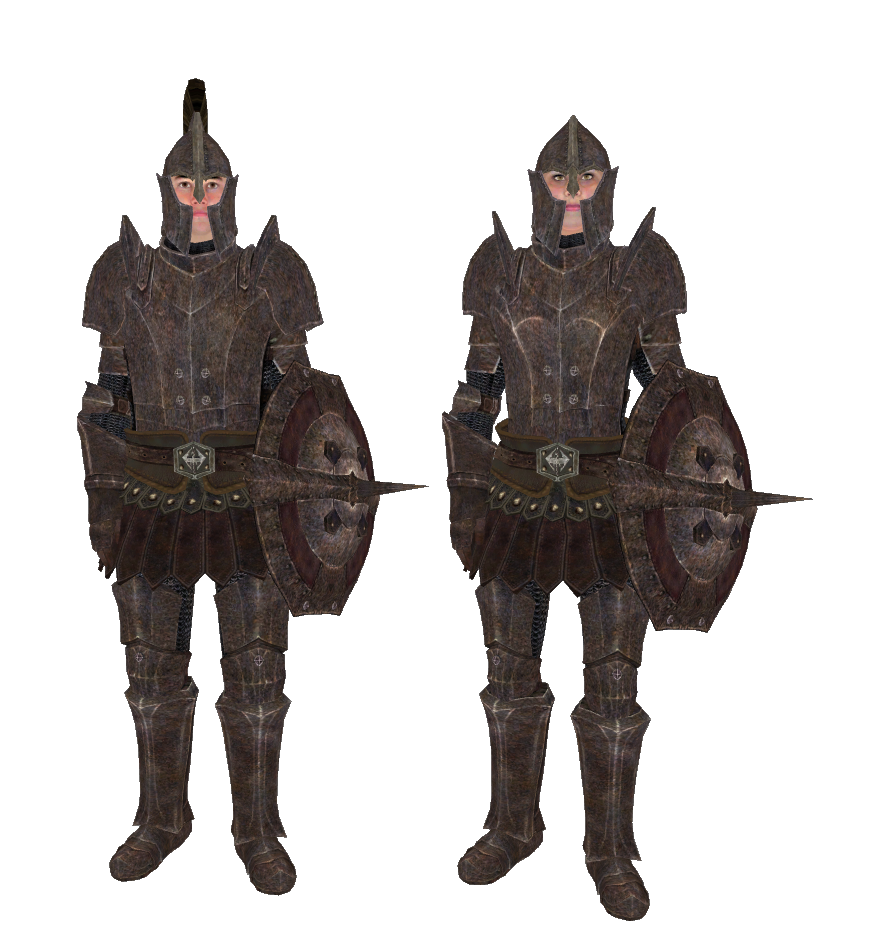 -The weight: It look like cast iron, and despite it legionaries must wear it all day and all days to travel during hundreds of kilometers of cyrodiil countries roads, sometimes at a gallop. Both horse and rider will be worn out.
-The thickness: Cyrodiil is temperate, but way hotter than northern provinces like high-rock or skyrim, with, certainly, a Mediterranean dominance, and even tropical regions in south. I don't think it is good or agreable to sweat like it all day and days.
-The armor herself: I don't see how, really don't, a single man can wear and unwear it... But those patrollers must be basic scouts too and sometimes must to sleep in armor... I don't really think anybody can sleep in those armors.
-They are HORSEMEN: Those legionaries patrolling for travelers security, and very often must dismount to fight. I already can't imagine a single man getting on a horse with this thing, it is even way harden to imagine a man pounce from horse to the enemy with this heavyfull kind of armor, more heavy than heavy.
-Fight and adapt: all good swordmens and sometimes also bowmen... Who in all worlds can correctly use a bow, and with reactivity and precision, with this kind of armor, especially from a horse?! Cyrodilics legion's horsemen must very often fight agile brigands and WILD BESTS! Okay, a more-heavy-than-heavy "cast iron" armor is technically a good protection, but agility also count, also for a PATROLLER!
So, I've done this:
One of my inspiration for drawing that was Byzantine cataphracts, because cyrodils are romans in a medieval-fantaisy world, and Byzantine are medieval romans. The man is a colovian. Legion's Horsebowmen haven't poldrons. I haven't done the helmet, because draw it take me more than 10 hours and I am in moving.
And here a armorless version:
This clothing-uniform is make to be under the armor-uniform, but it's an acceptable uniform itself, and is worn armorless by horsemen in inns, barracks, and in permission. The pendent, the belt with 9 gems, and the sun quarters in the low of the tunic are religious things. The suns have 9 rays and 3 letters, for Praised By Akatosh/And all the divines P.P.A./E.T.D.
P.S. If you don't take my proposition, and you surely don't, I know, plese use Skywind's Morrowind legion armor rather than ugy vanilla oblivion ones, it will make way more sense!
P.S.bis Those concepts are the first I make with a graphical tablet, I also make them as an entrainment. Here is my Deviantart: http://wulkos.deviantart.com/gallery/